"David Bowie was the most charismatic rock performer of his generation, a cultural polymath in every sense of the word. Although best known for his music, he was a talented actor on both stage and screen, a mime, a writer and a painter. He managed to bring together all these talents into the whole, creating 'David Bowie' as an artwork in itself, so that almost everything he did became part of his work as an artist. He was also beautiful to look at, personally charming, very well read and, as an interviewee, as near perfect as it gets because he knew how to manipulate the media to his advantage" – Chris Charlesworth (pictured above) ex-Editor of Melody Maker, Head of Omnibus Press.


David Bowie's death has come as an abrupt shock after last week's celebrations of his 69th birthday and the release of his brilliant, jazz-influenced album 'Black Star'. It felt like, just for a moment, there was so much more Bowie magic to come – he was showing no signs of slowing down and had re-invigorated himself artistically. The truth was in fact that 'Black Star' was a parting gift, a final flourish before the curtain dropped.
Born in Brixton in South London as David Robert Jones, his music career really began when he graduated from Bromley Technical College at 16 when he began to form a number of bands under the name Davy Jones. He then went on to change his name to David Bowie after Davy Jone's (of The Monkee's fame) came to prominence. He allegedly named himself after the 19th century American pioneer Jim Bowie, the creator of the Bowie knife.

(Pictured above: David Bowie in Beckenham, where he founded the Beckenham Arts Lab in 1969)
Bowie released 3 solo singles through Pye Records in the late 60's but without any real success and retreated to a Buddhist Monastery in Scotland in 1967. On his return to London he formed the Beckenham Arts Lab in 1969 and formed the art group Feathers before he released Space Oddity which was his first UK number 1. In turn this lead to some recognition in 1970 when The Man Who Sold The World was released which was famously covered by Nirvana at the peak of their success.
After this, arguably one of Bowie's most influential and greatest of albums was released – Hunky Dory. Laden with hooks and incredible song writing, the album contained songs such as Life On Mars and Oh, You Pretty Things – tracks which has stood the test of time 40 years later. The album re-contextualised 70's rock.
A new era for Bowie was marked in 1971 with the release of The Rise and Fall of Ziggy Stardust and the Spiders from Mars – not only did the album begin a new series of stage shows along with international success in the states, but it represented the first of many transformations he would make as an artist. His career looks less of a linear path following an artist's development, more of a series of art projects, each one almost as though he became a new artist altogether. This was the unique creative potency of Bowie, to be able to transcend himself and as though leafing through options, pluck a character out and transform into them. The Thin White Duke, Ziggy Stardust, Aladdin Sane – these were all simultaneously David Bowie and also something completely different.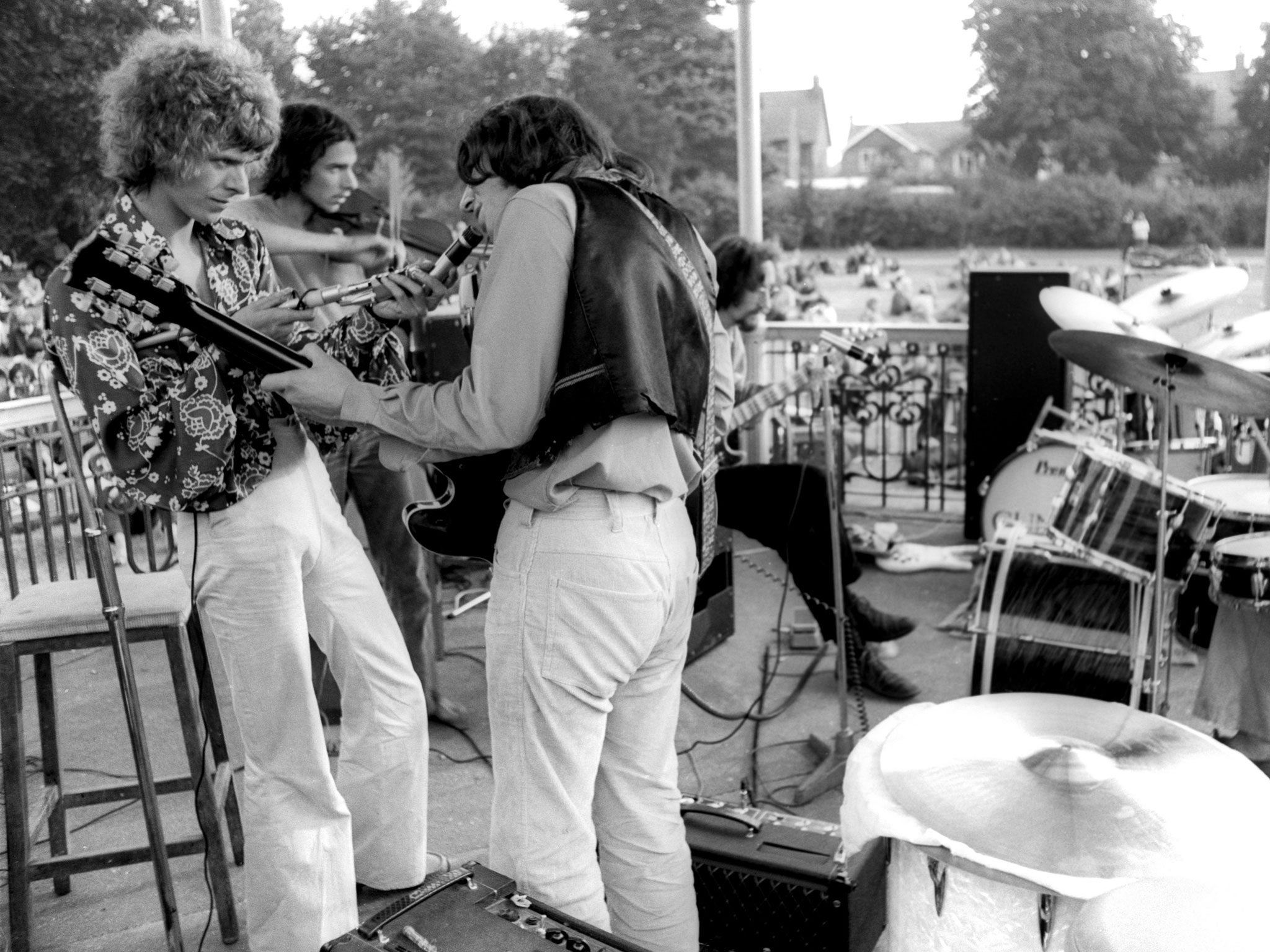 (Pictured: Bowie performs in Beckenham in the late 60's)

After releasing Aladdin Sane, Ziggy was retired from the stage but Bowie's presence endured – Diamond Dogs represented his move into Funk and Soul music and eventually paved the way for his next evolution into the Thin White Duke and his albums Young Americans and Station To Station – along with the massive hit Fame which he recorded with John Lennon.
Along with this Bowie moved into different projects, producing Lou Reed's Transformer album and writing Mott the Hoople's smash, All The Young Dudes.
He then went onto collaborate with Brian Eno in Berlin on the albums Low, Lodger and Heroes – a series of experimental albums which dabbled in electronic sounds, dense themes and a new radical approach to songwriting.


The late 70's saw Bowie beginning his acting career, appearing in Nicholas Roeg's critically acclaimed The Man That Fell To Earth.
Through the 80's he came to a new generation through his pop friendly album Let's Dance and his Live Aid boosting collaboration with Mick Jagger, a cover of Martha And The Vandellas' Dancin' In The Street. During the 90's he dabbled in metal, drum and bass and post-metal which was received relatively poorly by critics and fans alike.
His final two albums 'The Next Day' and 'Blackstar' were released and are seen as some of his best work, perhaps now it seems clear these were the projects of a man who knew his time was limited.


He sold an estimated 140 million albums. In the United Kingdom, he was awarded 9 Platinum, 11 Gold and 8 Silver albums. David Bowie was a master of transformation and a global cultural icon who set the bar for creativity incredibly high. His life was his art and vice versa. He will be sorely missed.
The entire David Bowie catalogue can be explored here on Musicroom.com